Eye Exams for All Ages
Eye exams are an important part of preventive health care. We provide a thorough checkup for eyes of all ages, both to ensure everyone in your family sees properly and to detect any early signs of eye disease.
We'll take the time to get to know you and your family. Our treatments are tailored to your unique needs, and we'll always explain any procedures or tests to ensure your comfort.
Book your appointment and meet our friendly team today!
Book Appointment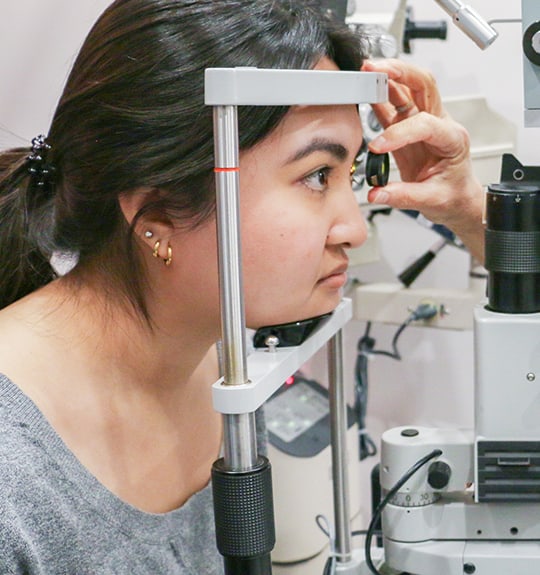 How Often Do I Need an Eye Exam?
The Canadian Association of Optometrists recommends that low-risk patients adhere to these guidelines at a minimum:
Adults between the ages of 20 to 39 should have an eye exam every 1 to 2 years.
Adults between the ages of 40 to 64 should have an eye exam every 2 years.
Adults 65 years and older should have an annual eye exam.
Patients with diabetes, high myopia, or other vision conditions should have more frequent examinations. We will work with you and your unique needs to determine the best exam schedule for your eyes.
Book your appointment today to keep on track with your eye health.
Book Appointment
What Happens During an Eye Exam?
When you first walk into our practice, you'll be greeted by our friendly team. If you're a new patient, we'll ask some questions about your health history, lifestyle, and current medications. We'll discuss your family history, give you time to ask questions and address any concerns.
Comprehensive eye exams are more than just a vision test. Our questions about your health and family history are designed to help us assess your risk factors for eye diseases or other vision conditions.
During the exam, we will carefully and thoroughly evaluate both the internal and external structures of the eye using the latest technology. We will measure your visual acuity to determine whether you need corrective lenses or if you already have them if your prescription is up-to-date.
We may also assess your colour vision, binocular vision (how well the eyes work as a team), depth perception, and how your pupils respond to light.
Book Your Appointment Today
Even if you think you have perfect vision, it's still important to have regular eye exams. Eye diseases can begin with little to no symptoms, so a comprehensive exam remains the best way to assess any early signs of eye disease.
Preserve your sight for years to come by booking a comprehensive eye exam today for every member of your family.
Book Appointment
Visit Our Location
Lowy & Sewell Eye Care is located in the mall on the corner of Steeles Ave W and Dufferin St, on the east side, next to Max's Restaurant. Free parking is available in the large lot steps from our front door.

Our Address
1520 Steeles Avenue W, Unit 119

Concord

,

ON

L4K 3B9
Hours of Operation
Monday

:

9:00 AM

–

6:00 PM

Tuesday

:

9:00 AM

–

6:00 PM

Wednesday

:

10:30 AM

–

7:00 PM

Thursday

:

9:00 AM

–

6:00 PM

Friday

:

8:00 AM

–

4:00 PM

Saturday

:

9:00 AM

–

2:00 PM

Sunday

:

Closed
Book Appointment
Our Brands
When it's time to update your eyewear, stop by Lowy & Sewell Eye Care to browse our brands. Our friendly staff can help you find lenses customized to your daily needs and frames to bring a little fun and flair to your look.
We want to help your eyes look and feel their best. So whether you want to go bold or minimalistic—we have styles for you and your family.