Dry Eye Can Disrupt Your Quality of Life
Experiencing dry, tired, or irritated eyes can be a huge obstacle to productivity and comfort in daily life. It can make concentrating on tasks like reading, digital messaging, or watching TV challenging. Fortunately, we can help you take steps for lasting relief with dry eye treatment.
Ensuring your eyes get the attention they need can help soothe symptoms in your daily life and help your eyes remain healthy for years to come. Book a dry eye consultation where we'll discuss your needs and evaluate your eyes to develop your personalized treatment plan.
Book Appointment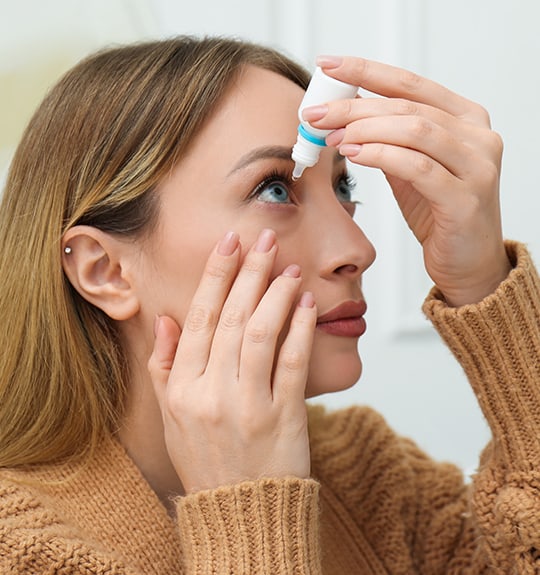 Dryness or Dry Eye?
Tearing up after a dusty, breezy day or experiencing irritation during allergy season can cause temporary dry eye. But chronic dry eye is a disease that can cause various symptoms, including blurry vision, burning, grittiness, redness, and watery eyes.
Although dry eye disease cannot be cured, treatments for dry eye can help you effectively manage tear quality to restore comfort and prevent complications.
Book Appointment
The Risk of Dry Eye
Tears keep the eye's surface clean, comfortable, and nourished. Like the rest of your body, your eyes function poorly when dehydrated. Your eyes can feel heavy, tired, and irritated. Blinking can feel uncomfortable. Chronic dry eye can also increase the risk of infections or corneal scarring, leading to impaired vision.
Dry eye treatment can alleviate symptoms and support your vision. When your eyes feel good, it can significantly change how you feel about your day. With an effective treatment plan, we can reduce your eye health risks and help you see comfortably.
Personalizing Your Dry Eye Treatment
When we work with you to recommend an appropriate dry eye treatment, we consider your eye health, daily needs, and long-term goals. We want to help you experience longer-lasting relief and achieve results that restore your quality of life.
Your comfort and health may benefit from a combination of treatments. We can also offer tips for at-home care or solutions you can adapt to your lifestyle to protect your eye's tear film (moisture layer). We're dedicated to helping you feel and see your best.
Get Dry Eye Relief
Many people put up with eye discomfort, pushing through irritation, blurriness, and dryness. Around 30% of Canadians experience dry eye symptoms. At Lowy & Sewell Eye Care, we see our patients as more than a number. We want to focus on how your eyes feel and function, so you can focus on your day with the distraction of dry eye.
Reach out today so we can help personalize dry eye treatment for your vision needs.
Visit Our Location
Lowy & Sewell Eye Care is located in the mall on the corner of Steeles Ave W and Dufferin St, on the west side, next to Max's Restaurant. Free parking is available in the large lot steps from our front door.

Our Address
1520 Steeles Avenue W, Unit 119

Concord

,

ON

L4K 3B9
Hours of Operation
Monday

:

9:00 AM

–

6:00 PM

Tuesday

:

9:00 AM

–

6:00 PM

Wednesday

:

9:00 AM

–

7:00 PM

Thursday

:

9:00 AM

–

6:00 PM

Friday

:

8:00 AM

–

4:00 PM

Saturday

:

9:00 AM

–

2:00 PM

Sunday

:

Closed
Our Brands
When it's time to update your eyewear, stop by Lowy & Sewell Eye Care to browse our brands. Our friendly staff can help you find lenses customized to your daily needs and frames to bring a little fun and flair to your look.
We want to help your eyes look and feel their best. So whether you want to go bold or minimalistic—we have styles for you and your family.