Keep Your Child's Vision in Focus
Myopia (nearsightedness) can have a lifelong impact beyond blurred distance vision. Managing your child's myopia can protect their eye health and vision, and help prevent a growing dependence on eyeglasses or contact lenses.
We want to help support your child's future by creating a personalized treatment plan for their vision now. Visit us for your child's eye exam so we can discuss how myopia management can benefit your child.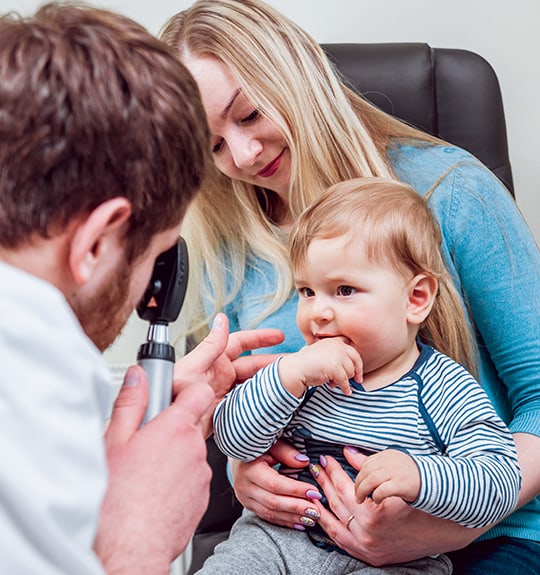 A Growth Chart for the Eyes
Axial length is the measurement of the eye front to back. Myopia occurs when the eye grows too long or steep, causing light to focus in front of the retina rather than directly on it. As a result, the poor focus makes distant objects appear blurry.
With a noninvasive, 10-second scan, we can measure axial length and cornea curvature, helping us predict myopic progression, like a growth chart for your child's eyes.
How Myopia Affects Eye Health
When your child needs glasses or contact lenses to see the board in school or signs across the street, it can affect how they interact with the world. Managing myopia early can help prevent an increasing dependence on corrective lenses and conditions complicating eye health.
Axial growth accelerates in children with myopia, causing eye tissue to stretch and weaken. As a result, myopia can increase the risk of cataracts, glaucoma, macular degeneration, and retinal tears developing later in life.
We get to know your child to recommend appropriate treatment based on their age, vision, and daily needs.
What Is Myopia Management?
Myopia management helps prevent or limit myopia progression by slowing the eye's axial (lengthwise) growth. At Lowy & Sewell Eye Care, we offer various methods for myopia treatment, including ortho-k, multifocal contact lenses, myopia eyeglasses, and atropine eye drops.
No single treatment is 100% effective at reducing myopia progression. Instead, your child may benefit from a combination of solutions, from prescriptions to lifestyle practices. We'll work with you and your child to create a treatment plan appropriate for their vision, health, and comfort.
Visit Our Location
Lowy & Sewell Eye Care is located in the mall on the corner of Steeles Ave W and Dufferin St, on the east side, next to Max's Restaurant. Free parking is available in the large lot steps from our front door.

Our Address
1520 Steeles Avenue W, Unit 119

Concord

,

ON

L4K 3B9
Hours of Operation
Monday

:

9:00 AM

–

6:00 PM

Tuesday

:

9:00 AM

–

6:00 PM

Wednesday

:

10:30 AM

–

7:00 PM

Thursday

:

9:00 AM

–

6:00 PM

Friday

:

8:00 AM

–

4:00 PM

Saturday

:

9:00 AM

–

2:00 PM

Sunday

:

Closed
Book Appointment
Our Brands
When it's time to update your eyewear, stop by Lowy & Sewell Eye Care to browse our brands. Our friendly staff can help you find lenses customized to your daily needs and frames to bring a little fun and flair to your look.
We want to help your eyes look and feel their best. So whether you want to go bold or minimalistic—we have styles for you and your family.